A selection of books by First Nation authors and illustrators for children of all ages to read or listen to.
eBooks
eBooks
At the Mountain's Base
Child picture book and e-book. At the mountain's base sits a cabin under an old hickory tree. And in that cabin lives a family -- loving, weaving, cooking, and singing. The strength in their song sustains them through trials on the ground and in the sky, as they wait for their loved one, a pilot, to return from war."-- book jacket. Age: 5-8.
Where to Find:
eBooks
We Are Grateful = Otsaliheliga
Child nonfiction book, Wonderbook (print and audiobook together), e-book, e-book with audio, and e-audiobook. Text includes English and Cherokee. Journey through the year with a Cherokee family and their tribal nation as they express thanks for celebrations big and small. A look at modern Native American life as told by a citizen of the Cherokee Nation. Age: 5-8.
Where to Find:
Movies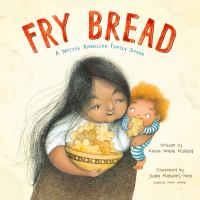 Movies
Fry Bread : A Native American Family Story
Child picture book, e-book and DVD. This volume tells the story of a post-colonial food that is a shared tradition for Native American families all across the North American continent. Includes a recipe and an extensive author note that delves into the social ways, foodways, and politics of America's 573 recognized tribes. Age 3-6.
Where to Find: